This node 568844 is published parle_debug=field_parle_speak boolean = FALSE (unchecked or not configured)
Compliance Monitoring and Enforcement Policy
1. Policy Objective
This Policy sets out the tools the Canadian Transportation Agency (CTA) uses and the manner in which it targets its compliance monitoring and enforcement resources to maximize proactive compliance by regulated entities with the legal obligations the CTA oversees.
2. Legislation
The CTA has primary responsibility for administering the Canada Transportation Act (Act) and its associated regulations; and shared responsibility for a number of other acts and regulations that involve the national transportation system (see acts and regulations). The CTA has a compliance monitoring and enforcement program in place to help ensure compliance by regulated entities with their legal obligations.
3. CTA Core Mandates
The CTA has three core mandates:
To help ensure that the national transportation system runs efficiently and smoothly in the interests of all Canadians: those who work and invest in it; the producers, shippers, travelers and businesses who rely on it; and the communities where it operates;
To protect the human right of persons with disabilities to an accessible transportation network; and,
To provide consumer protection for air passengers.
4. CTA Context
The CTA is an independent regulator and tribunal that regulates over 1500 service providers in the air, rail, marine and interprovincial bus sectors. The CTA's responsibilities include verifying compliance with about 700 provisions enforceable by means of administrative monetary penalties (AMP). This number increases to about 780 provisions by 2022 as a result of regulatory and legislative changes.
Specifically, the CTA verifies compliance with:
provisions of the Act and regulations made pursuant to the Act;
Orders issued by the CTA in the context of dispute adjudications, regulatory determinations, and own motion inquiries or investigations;
conditions attached to regulatory authorizations, including conditions for air licences and permits, railway construction authorizations and certificates of fitness for railway companies.
4.1 Contraventions of the Canada Transportation Act (Act)
There are two ways in which contraventions can be addressed under the Act:
Offence

A regulated entity that contravenes a provision of the Act or a regulation or Order made under the Act, is guilty of an offence punishable on summary conviction and liable to a fine not exceeding $5,000 for an individual and $25,000 for a corporation.

Violation

A regulated entity that contravenes a provision, requirement or condition with an associated designated penalty commits a violation and is liable to a prescribed AMP not exceeding $5,000 for an individual and $25,000 for a corporation. For a violation of insurance requirements for federally-regulated railway companies, a regulated entity is liable to an AMP of up to $100,000. For a violation of a regulation intended to identify or remove barriers to the mobility of persons with disabilities, a regulated entity is liable to an AMP up to $250,000.
Non-compliance can be addressed either as a violation or an offence. It is the CTA's policy that typically non-compliance will be addressed as a violation as a general rule, although there may be exceptions for egregious cases where consideration will be given to pursuing non-compliance as an offence. Penalties for an offence and AMPs for a violation cannot be issued for the same instance(s) of non-compliance.
This policy only addresses the enforcement of legal obligations that are under the purview of the CTA and does not deal with the process for non-compliance handled as an offence. However, the CTA retains discretion to proceed with non-compliance as an offence where warranted.
5. CTA's Approach to Compliance Monitoring and Enforcement
The CTA encourages and ensures compliance through a variety of activities ranging from promoting compliance through outreach and education, through monitoring and verification, to enforcement. This range of compliance assurance activities is commonly referred to as the compliance continuum.
Figure 1 – Compliance Continuum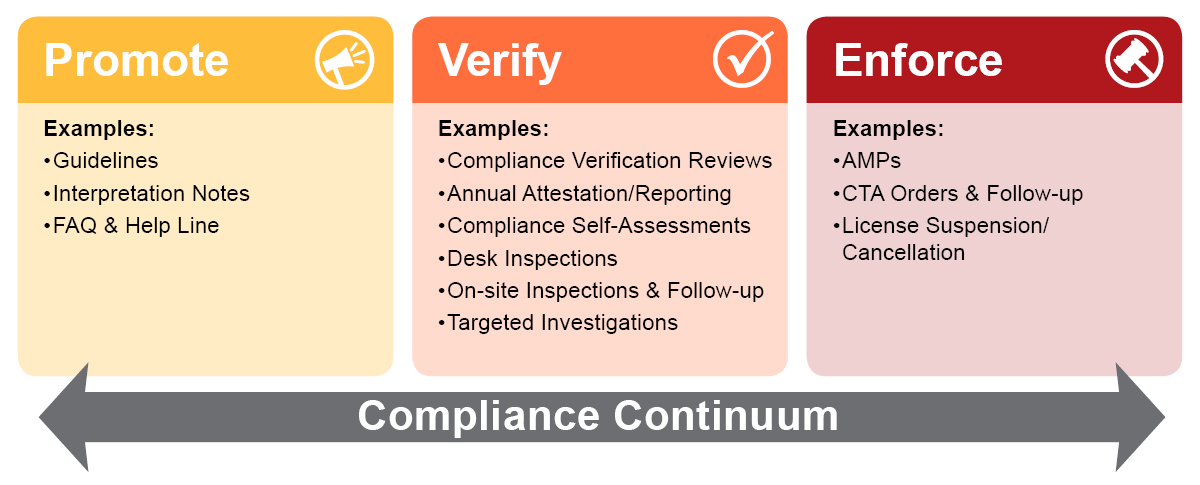 Figure 1 - Text version

The Compliance Continuum consists of three activities: Promote, Verify and Enforce.

Examples of promoting compliance include:

Guidelines
Interpretation notes
Frequently asked questions and help line.

Examples of verifying compliance include:

Compliance verification reviews
Annual attestation/reporting
Compliance self-assessments
Desk inspections
On-site inspections and follow-up
Targeted investigations

Examples of enforcing compliance include:

AMPs
CTA orders and follow-up
License suspension or cancellation

These activities can occur in any order and may be repeated as necessary.
6. Guiding Principles
The CTA is guided by the following principles when undertaking compliance monitoring and enforcement activities within its mandate:
Fair, Objective and Consistent Processes: Rules and processes for inspections, investigations, enforcement and the application of AMPs are clear, effectively communicated and applied in a consistent and impartial manner.
Transparency: Information for regulated entities about how to meet statutory obligations; the compliance monitoring and enforcement activities they may be subject to; as well as compliance issues identified, addressed and corrected, are clearly communicated on the CTA's website with the objective of fostering compliance.
Evidence-Based Decision-Making: Decisions respecting compliance monitoring and enforcement actions are grounded in the analysis of the best available data and evidence.
Proportionality: CTA enforcement action is proportionate to the contravention and related circumstances, such as the regulated entity's prior record of compliance.
All CTA employees carry out their compliance monitoring and enforcement functions in a manner consistent with the CTA's core values as per the Code of Values and Ethics for the CTA.
7. Roles and Responsibilities
The Chairperson
The Chairperson is Chief Executive Officer of the CTA and provides supervision over and the direction of the work of the CTA's Members and staff, including the assignment of members to cases. The Chair is also a Member of the CTA.
Members
Regulatory determinations, including on compliance matters, are made by a panel of Members who are assigned by the CTA's Chair.
Designated Enforcement Officers & Compliance Analysts
The CTA has Designated Enforcement Officers and Compliance Analysts at headquarters as well as in regions across the country delivering on its compliance assurance mandate. Their work is informed and supported by staff with subject matter expertise in the air, rail, marine and interprovincial bus modes of transportation and in accessible transportation.
Designated Enforcement Officers (DEOs) are persons designated by Members to exercise the authority under the Act to issue notices of violation and AMPs. DEOs conduct compliance inspections and investigate suspected contraventions. They have powers of entry and inspection in carrying out their functions of verifying compliance by regulated entities with legal obligations. DEOs also have powers to summon witnesses and compel them to provide documents and other information.
Compliance Analysts are CTA employees whose functions include the development and implementation of compliance assurance strategies and tools used for monitoring activities. They carry out monitoring activities as part of compliance reviews of regulated entities. Compliance Analysts also undertake compliance pattern and trend analysis to inform compliance monitoring and enforcement activities.
Other CTA Staff
CTA subject matter experts support compliance monitoring and verification of legal obligations pertaining to licencing, insurance, permits and tariffs.
8. The Compliance Monitoring and Enforcement Program
The CTA deploys compliance resources in two steps: first, resources are focused on a number of key compliance matters, then, the remaining resources are targeted based on an assessment of the risk of non-compliance by the regulated entities.
8.1. Allocation of Compliance Resources to Key Identified Areas
The three priority areas to which compliance resources are first allocated are:
Follow-up on all CTA Orders to ensure that regulated entities comply with the requirements of the Order.
Follow-up on credible information (e.g. media reports, tips received, complaint patterns, formal and informal submissions) indicating that a contravention of legal obligations might have occurred.
Annual verification that each regulated railway company holds required liability insurance coverage.
8.2. Risk-Based Approach to Compliance
The CTA applies a risk-based approach to inform decisions about the allocation of compliance monitoring and enforcement resources beyond the key areas listed above. The purpose of this approach is to ensure that finite CTA resources are directed where the likelihood and/or impact of non-compliance is higher. More resources can be directed to entities having a higher risk profile and where the impact of non-compliance on users of the transportation system could be significant. This could entail, for example, a mix of unannounced inspections upon the coming into force of new regulations, as well as targeted compliance monitoring and enforcement activities that take into account the risk profiles of regulated entities. A regulated entity's risk profile is informed, in part, by information obtained through pattern and trend analysis identifying potential existing and emerging compliance issues.
Applying a risk-based approach to compliance in this way allows the CTA to use a broader range of tools to actively monitor a larger number of regulated entities across all modes of transportation and across the full compliance continuum in relation to the broad range of legal obligations the CTA enforces, including the Accessible Transportation for Persons with Disabilities Regulations and the Air Passenger Protection Regulations.
9. Compliance Monitoring and Enforcement Program Tools and Activities
The CTA employs a number of different tools and activities across the compliance continuum to foster compliance by regulated entities and identify and address instances of non-compliance.
9.1. Promoting Compliance
The CTA provides regulated entities with guidelines and other information to assist them in understanding their legal obligations. The CTA undertakes targeted outreach activities involving individual regulated entities, or groups of entities, in relation to specific statutory provisions to help entities fully understand their obligations and the consequences of non-compliance.
9.2. Verifying Compliance
The CTA proactively monitors and assesses compliance of regulated entities with legal obligations. It does so through the following activities:
Review and follow-up to compliance self-assessment questionnaires and attestations by regulated entities
Review and follow-up of regulated entities' websites for alignment with statutory obligations
Routine documentation reviews and follow-up with air and rail regulated entities to ensure ongoing compliance with liability insurance legal obligations
Follow-up to all CTA Orders to ensure compliance
Desk inspections of regulated entities to verify compliance
In addition to the above, DEOs also carry out on-site inspections to assess and verify compliance as well as undertaking targeted investigations of suspected contraventions. The nature and frequency of on-site inspections are informed by the regulated entity's risk profile and are generally conducted at the regulated entity's place of business, but may also take place at transportation facilities such as at airports and railway terminals. These inspections can be either planned and announced, or unannounced. Targeted investigations are carried out when a DEO has more concrete evidence to suspect non-compliance. The DEO may consider any relevant evidence that is available, including evidence that was produced in CTA dispute adjudications, regulatory determinations, own motion inquiries and investigations, and other proceedings.
9.3. Enforcing Compliance
A DEO's response to non-compliance escalates in severity depending upon the nature of the violation and the compliance history of the regulated entity. When a DEO believes that a regulated entity has committed a violation of the Act or regulations, or when a regulated entity has not complied with a CTA Order, the following enforcement actions are available:
A) Issuing a Cautionary Notice
A DEO may issue a Cautionary Notice to a regulated entity to convey the DEO's opinion that certain acts or omissions on the part of the entity could be in contravention of the Act or regulations. The notice informs the entity that the DEO could take more formal enforcement action if the behaviour or action continues. The Cautionary Notice states the statutory or regulatory provision in respect of which there is an alleged violation and includes the facts that constitute the basis for the alleged non-compliance. It also contains measures to be taken by the regulated entity to return and remain in compliance, and the timeframe in which to do so.
A Cautionary Notice is used only when:
the level of harm or severity of impact from the alleged non-compliance on affected passengers, market or industry is not high;
the alleged non-compliance was inadvertent; and
the regulated entity has not been issued an AMP for non-compliance with the provision(s) in question in the previous four years.
DEOs will follow-up with the regulated entity that received a Cautionary Notice at a later date as determined by the DEO to verify compliance with the provision(s) that are the subject of the notice.
A Cautionary Notice is not subject to any review mechanism.
B) Issuing a Notice of Violation that Contains a Warning for Contraventions of Accessibility Provisions
A DEO who believes that a regulated entity has committed a violation of an obligation intended to identify or remove barriers to the mobility of persons with disabilities may issue a Notice of Violation that contains a Warning. This is distinct from a Cautionary Notice in that it does have legal effect and is subject to review (see below).
C) Issuing a Notice of Violation Setting an Administrative Monetary Penalty
When a DEO believes that a regulated entity has committed a violation of a provision of the Act and/or regulations as designated in the Act or in a regulation, or has failed to comply with a CTA Order issued pursuant to a designated provision, the DEO may issue a Notice of Violation (NOV) setting out the AMP that the regulated entity is liable to pay. The DEO and the Manager of Compliance and Enforcement may seek advice or assistance from CTA staff in issuing the NOV; and the Senior Director of Compliance Monitoring and Enforcement, may, as DEO, provide guidance and advice to the Manager and the DEOs.
AMPs are administered based on a progressive scheme of penalties aimed at fostering compliance.
Consideration of the Level of Severity and Repeat Violators
The regulations or the Act specify the maximum amount of an AMP that may be set for a given contravention. However, the AMP imposed for a specific violation depends on
the severity of harm resulting from the violation, and;
the number of previous violations of the same provision committed by the regulated entity.
The CTA has assigned a severity level for each of the legislative or regulatory provisions that are subject to an AMP, from Level A to Level D. A violation of a Level A provision is considered to be strictly administrative in nature, progressing to Level D, the most serious (see levels). Each level is assigned a progressively higher AMP for the first and subsequent violations.
Under this penalty scheme, progressively higher penalties for repeat violations are imposed. Each subsequent violation of the same provision of the Act or Regulations within a four year period by the same entity will result in progressively higher penalty amounts, up to the maximum amount specified for each provision.
Consideration of Aggravating and Mitigating Factors
DEOs may consider aggravating and mitigating factors when determining the AMP amount to impose for a specific violation. These factors include:
Level of harm or severity of impact on affected passengers, market or industry;
Effort on the part of the regulated entity to comply with or avoid the obligation;
Level of effort on the part of the regulated entity to mitigate or reverse the violation's effects;
Extent of corrective action taken by the regulated entity to reach compliance and prevent future non-compliance;
Level of cooperation by the regulated entity during an investigation; and
Number and seriousness of previous violations.
CTA Process for Serving a Regulated Entity with a Notice of Violation
A NOV is electronically signed and transmitted by e-mail to the regulated entity, which requires confirmation of receipt by the recipient. A physical certified copy of the electronic NOV can be provided upon request to the regulated entity and its legal representative (when applicable). Alternatively, a NOV is sent to the regulated entity by registered mail (or courier) and requires a signature upon receipt.
9.4. Notice of Violation Review Processes
Review Process for NOVs That Set Out A Warning For Contraventions of Designated Accessibility Provisions
A person who has been served with an NOV that contains a warning may file with the CTA a written request for a review of the alleged contravention.
Review Process for NOVs that Set Out an AMP
On request by the regulated entity, the Transportation Appeal Tribunal of Canada (TATC) reviews the facts of the alleged contravention found by the DEO or the amount of the AMP imposed. At the conclusion of the review, TATC may:
Confirm the contravention and the amount of the AMP;
Confirm the contravention but reduce the amount of the AMP; or
Determine that the person has not committed a contravention, in which case the NOV is cancelled.
10. CTA Compliance Panel
CTA staff work to verify compliance and attempt to resolve issues pertaining to a regulated entity's compliance. To do so, they consider all relevant facts and information at their disposal, including that received from the regulated entity. In cases where staff are of the opinion, following their interactions with the regulated entity, that there remains compliance concerns, they may recommend that the Chair appoint a Compliance Panel of CTA Members, to deal with the matter.
The assignment of a Compliance Panel may be appropriate in any of the following circumstances:
Where the matter in question requires an interpretation of legislation or regulations that the CTA has not yet interpreted, or of a regulated entity's compliance with a previous CTA Order;
Where, in order to address the non-compliance, a regulatory authority may need to be suspended or cancelled, or where an Order requiring the entity to do or refrain from doing something may be appropriate; or,
Where staff have exhausted all appropriate tools and authorities at their disposal to assess or enforce compliance.
The Compliance Panel will conduct a proceeding to determine compliance of a given regulated entity with legal obligations, including those imposed on the regulated entity by a CTA Order. The Compliance Panel will determine the most efficient procedure for making a determination on compliance, which may include:
issuing a determination, in which it makes a preliminary finding of non-compliance based on the available evidence and gives the regulated entity an opportunity to show cause why the CTA should not make such a final finding of non-compliance,
holding an oral hearing, which may be open to the public,
appointing an Inquiry Officer to gather and summarize evidence from affected parties or use any other tool that it deems appropriate to determine compliance.
The Compliance Panel will issue a written determination, which is final and binding.
Order Made by the Compliance Panel
In the event that non-compliance is determined through a Compliance Panel, the CTA may make an appropriate Order against the regulated entity. The Order could impose a variety of remedies within the CTA's authority under the Act to achieve compliance. In some cases, it may order corrective measures as part of a formal finding that a provision has been contravened. This can include requiring the regulated entity to take, or to refrain from taking a certain action and specifying a time period for doing so, as appropriate. The CTA can also modify its previous Order when a new fact or circumstance since the issuance of the Order warrants such a change.
A CTA Decision or Order may be made an Order of the Federal Court or of any superior court and is enforceable as an Order of that court. The CTA or a party may seek to enforce the Order before that court in contempt of court proceedings.
The CTA may suspend or cancel licenses or permits and other regulatory authorities for certain violations of the Act or regulations when the regulated entity does not operate within the authorities or when the conditions to maintain the authority are not met.
11. Concurrent Processes
In the case of certain complex incidents of potential non-compliance involving multiple issues and multiple potential violations, a DEO may conduct a targeted investigation regarding certain aspects of the incident, which may result in an NOV and associated AMP. This investigation could take place at the same time that a panel of CTA Members has been struck to consider other aspects of the same incident or incidents.
Report a problem on this page